SoapSaver™ - Perfect for keeping wet soap & shampoo bars away from the rest of your toiletries.
(Buy Button - scroll to bottom)
Keep your toiletries dry with our reusable SoapSaver™ pack.. This vegan, waxed Wrap pack is great for varying sizes or shapes of soaps and shampoo bars. The SoapSaver™ fits the size of your block of soap with the help of two natural coconut buttons and a cotton cord. Simply wind the cord around the buttons to secure your bar whatever shape it may be!
Ideal for wrapping soap and shampoo bars to keep them apart from the rest of your toiletries when you're travelling or on holiday.
No more fighting with cling film or trying to seal, "self-seal" plastic bags - just wrap, wind and go!
They're just one waxed piece, so you don't have to worry about ripping any lining inside the Wrap as - there isn't one -they don't need a lining.
Very easy to clean - just cold water with washing-up liquid - keep away from heat and because they're waxed, the water rolls off them just air dry.
Brighten your toiletry bag with our funky fabrics - suitable for kids and adults.
Each 2-pack has different designs so you can tell your soap from your shampoo bar.
Save money! How many rolls of clingfilm/tinfoil or packs of plastic bags do you buy in a year?
Never run out of clingfilm, tinfoil or plastic bags!
Ideal for wrapping all sorts of toiletries - not just soap or shampoo.
Suitable for Vegans, Vegetarians or Omnis - contains no animal by-products
Ideal if you're allergic to beeswax wraps or bee by-products.
For general care instructions please see. "Our Wrap Facts."
Certified by Viva!Vegan
Makes a useful Eco-friendly gift for family and friends!
CAUTION: Our Wraps contain tree resin. If you are allergic to tree resin DO NOT USE ANY WRAPS which contain it. If you are unsure please seek medical advice PRIOR to purchase.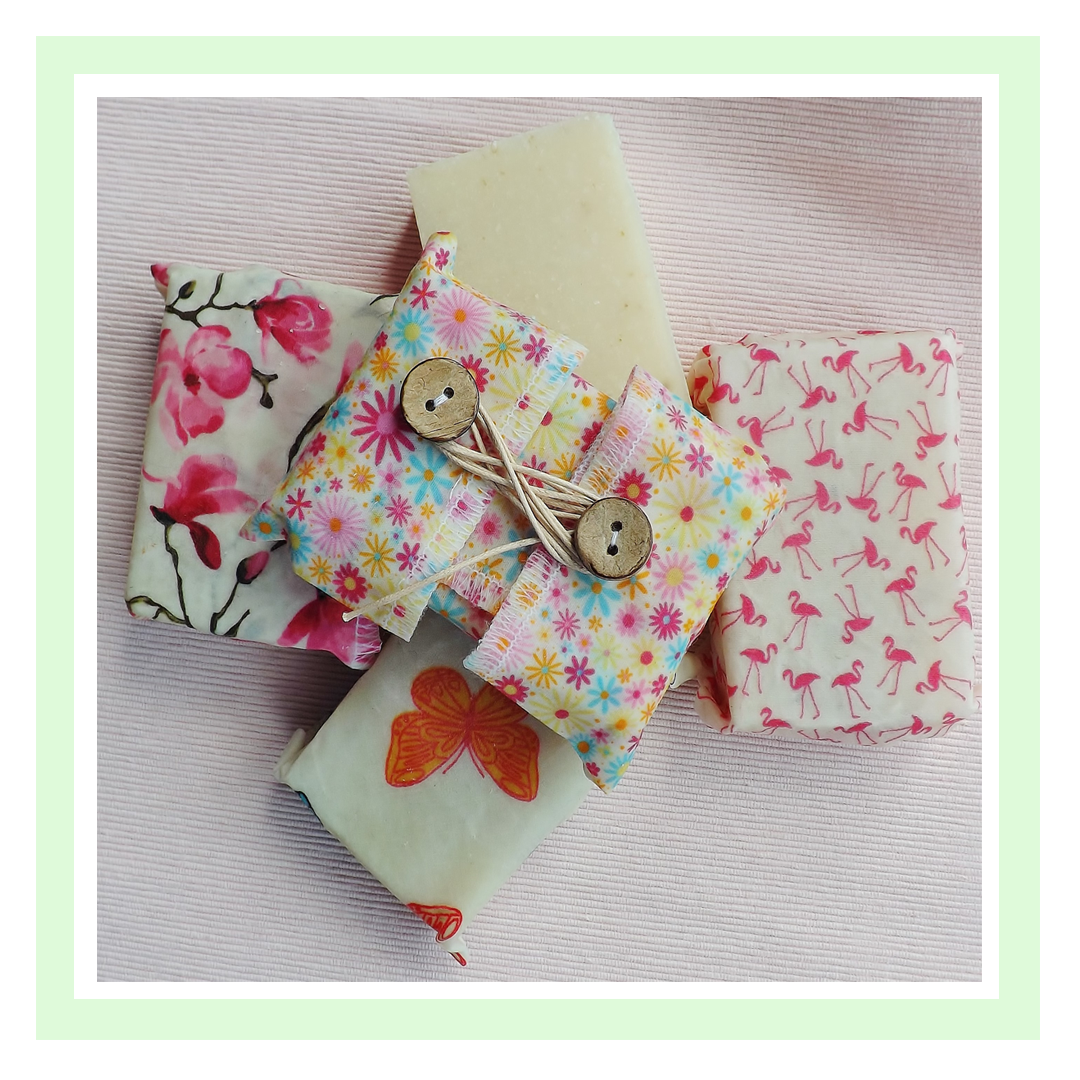 2 SoapSavers™ per pack- available as 2, 4 or 6 Wrap packs - each SoapSaver™ measures a minimum of 19 x 19cm
Mix & match designs
1 cotton draw-string storage bag is included per pack. Additional bags available to purchase.
The natural coconut buttons will vary in colour and tone, but will be similar to the images on this site.
The cotton cord measures 3 x the width of the Wrap.
Our Wraps are handmade in the UK and infused with our unique blend of candelilla wax, jojoba oil and tree resin; with professionally finished no-fray edges.